By Elin Kåven
Following the protests in Oslo this week on TV has been very painful for me. I have cried every time I have watched TV. The brave young people with their whole lives ahead of them. They must also fight a battle our ancestors have fought. The grief of losing an entire culture and way of life. It became so real. The weight the young people carry on their shoulders now is a burden our ancestors carried. And all the support they received from far and near warmed my heart. This was a battle for human rights, cultural protection, nature protection, democracy and society.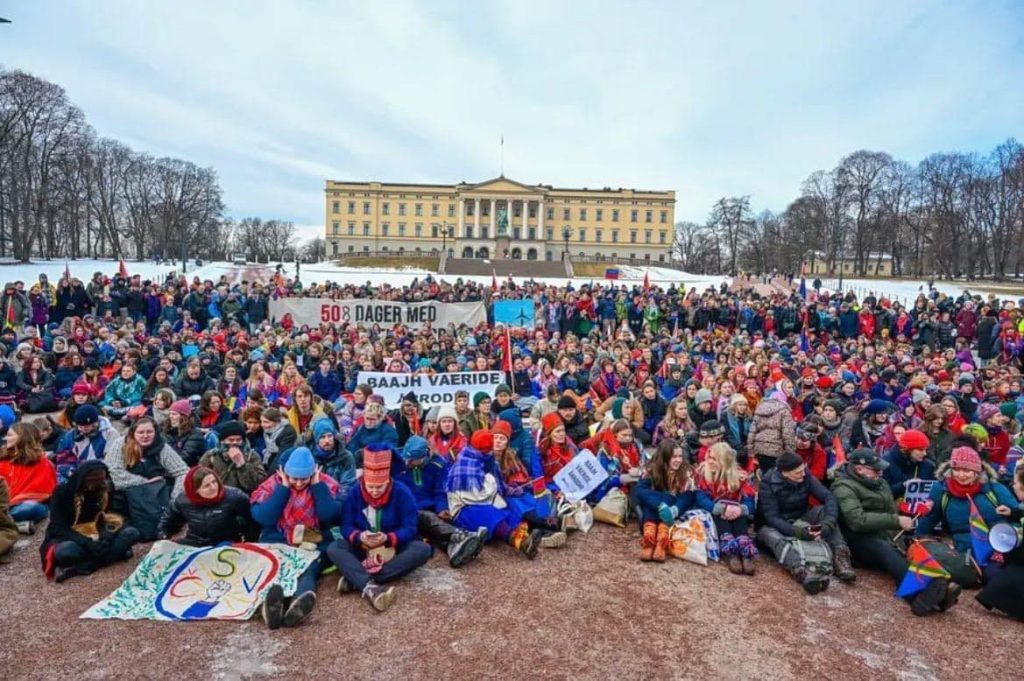 Even with my endless attempts in recent years to look at the Sami development in society in a new way, – to focus on the positive, everything good about being Sami today: "Norwegianization belongs to the past. The king has apologized. All we need are dialogues. We Sami have gained more acceptance. We must not dwell on the past, now are new times, the Sami culture has survived…"
But the reality is there, it was so clearly. We live in a time where we Sami must do the same thing we have done for centuries – fight for our right to be allowed to be Sami at all. Literally – be Samis legally.
We Sami are not a warlike people – this can be seen, among other things, in our traditions about how we show reluctance. Namely by turning the hat inside out, or keeping quiet when we disagree about something. Wearing the gákti inside out is very drastic in Sami culture, and the person it is aimed at mus be able to perceive the signal.
Wearing the gákti inside out or remaining silent to express opposition has never been very effective in dealing with the state. The fact that we wear the gákti inside out can never produce a political result. At least not to our advantage.
But a protest action might help? It has partially helped in previous demonstrations. A protest is a language our colonists understand better.
The reality is: the Sami have followed the laws of the colonial states since they were founded.
Laws in Norway have made it more and more difficult for us to be Sámi, – to live as Sámi. New rules are coming all the time which make things more difficult – not only for us Sami, but for everyone else who wants to live a life close to nature. The Norwegian state makes things difficult for us who find value in nature, and will not prioritize what generates money and material goods.
Nevertheless, we Sami have mostly adapted to new laws and rules, we have learned Norwegian, attended Norwegian education courses, stopped talking about our spirituality, adopted your worldview and values, stopped wearing gákti on a daily basis, live in the type of house the state requires us to live in, started working in professions that benefit the colonists' society, followed laws in relation to hunting, fishing and predator hunting, adapted our joik to uncomprehending ears. All this in favor of our own tradition. Little by little, our culture has disappeared into the paper mill.
Reindeer herding as a culture and way of life has been turned into meat production, the fishing rivers are empty of fish, hunting and fishing as a way of life is not feasible in Norway, turf huts and lavvus have almost disappeared from the tundras, fjords are polluted by mining, and windmills occupy miles of natural areas. Areas that keep us alive. Us people. We in the north are lucky to have managed to keep our nature so clean and alive – for now. Because now there is less and less of the nature that our ancestors handed down to us. It is about to be demolished.
We Sami have sacrificed a lot in the name of Norway's laws.
I must say that today I celebrate all Sami people! Also all the Sámi who have not followed the laws to the letter. Now I think, why should they, when the state itself doesn't do it?
They have just lived their lives, practiced their culture, carried on their traditions – even when new laws have come in which have made it more difficult for them to do so. I also want to celebrate all of them today.
They did not allow themselves to be ruled by unreliable powers. They knew that the laws in Norway cannot protect them – and they knew not to let foreign powers' laws and money battles destroy our way of life. The Fosen case is not the first time we have evidence that we cannot trust the Norwegian legal system. This is something the Sámi throughout Sápmi have known all along. These Samis protests happen on a daily basis. Their everyday life in itself is a protest against the ideas the government comes up with behind their desks. The Sámi protest in silence. Practicing their culture. Show disagreement and resistance by remaining silent.
We Sami should have better things to do than protest against the state. We should be busy building up what we have lost over the centuries – and we can only do that by living it out. To live the culture we want to have. To live the life we ​​want to live as Sami. We should be busy cultivating our culture!
The reality is that we still have to deal with the colonial state and their constantly new inventions and priorities that stop us. Unfortunately. We have many battles to fight for the survival of our culture. Unfortunately, this is still a struggle for us – after several hundred years.
The reality is – our culture is being erased with history.
But still – every year we celebrate May 17 and discuss why we can wear cardigans on May 17. Why can we?
It is hard to believe that not everyone in the country knows it, but Norway is part of Sápmi! And we Sami had no voice when that decision was made.
Dear State of Norway, when your ancestors occupied these lands they knew that this was the home of the Sami people. The attempt to make us good Norwegians has not been 100% successful yet. But you have come a long way. Just as you managed to erase your own ancestral Norse culture, you are now in the process of erasing the Sami peoples ancestral culture.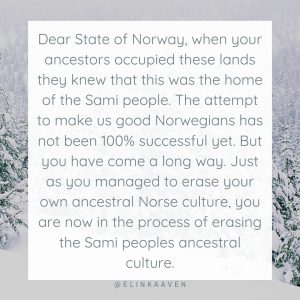 NORSK:
Å følge aksjonen i Oslo denne uka på TV har vært veldig sårt for meg. Jeg har grått hver gang jeg har sett på TV. De modige ungdommene med hele sitt liv foran seg. De må også kjempe en kamp våre forfedre har kjempet. Sorgen over å miste en hel kultur og levemåte. Det ble så virkelig. Den tyngden de unge bærer på sine skuldre nå er en tygde våre forfedre bærte. Og all den støtten de fikk fra fjernt og nært varmet hjertet mitt. Dette var en kamp om menneskerettigheter, kulturvern, naturvern, demokrati og samfunn. 
Selv med mine endeløse forsøk de siste årene på å se på den samiske utviklingen i samfunnet på en ny måte,-  å fokusere på det positive – alt gode med det å være same i dag:  "Fornorskingen hører fortiden til. Kongen har bedt om unnskyldning. Alt vi trenger er dialoger. Vi samer har fått mer aksept. Vi må ikke dvele ved fortiden, nå er det nye tider, det samiske har overlevd fornorskningen… "
Men realiteten er der, den kom så tydelig frem. Vi lever i en tid der vi samer må gjøre det samme vi har gjort i århundrer – kjempe for vår rett til å i det hele tatt få lov til å være samer. Bokstavelig talt – være lovlige samer. 
Vi samer er ikke et krigersk folk – det kan man merke blant annet på våre tradisjoner om hvordan vi viser motvilje. Nemlig ved å vrenge lua, eller tie stille når vi er uenige i noe. Å vrenge kofta er veldig drastisk i samisk kultur, og signalet må kunne oppfattes av den det er rettet mot. 
Å vrenge kofta eller tie stille for å uttrykke motstand har aldri vært særlig effektivt i møte med staten. At vi vrenger kofta kan aldri gi et politisk resultat. Ihvertfall ikke til vår fordel. 
Men en protestaksjon kan kanskje hjelpe? Det har hjulpet delvis i tidligere aksjoner.  En protestaksjon er et språk våre kolonister forstår bedre. 
Realiteten er:  samene har fulgt kolonistatenes lover fra de ble grunnlagt. 
Lover i Norge har gjort det vanskeligere og vanskeligere for oss å være samer, – å leve som samer. Nye regler kommer hele tiden som gjør ting vanskeligere – ikke bare for oss samer, men for alle andre som vil leve et naturnært liv. Den norske stat gjør ting vanskelig for oss som finner verdier i naturen, og ikke vil prioritere i det som generer penger og materielle goder. 
Likevel har vi samer stort sett tilpasset oss nye lover og regler, vi har lært oss norsk, gått på norske utdanningsforløp, sluttet å snakke om vår åndelighet, sluttet å bruke kofta til hverdags, lever i den type hus staten pålegger oss å leve i, begynt å jobbe i yrker som gagner kolonistenes samfunn, fulgt lover i forhold til jakt, fiske og rovdyrjakt, tilpasset joiken vår til uforstående ører. Alt dette i fordel for vår egen tradisjon. Litt etter litt har vår kultur forsvunnet i papirmølla. 
Reindrift som kultur og livsvei er omgjort til kjøttproduksjon, fiskeelvene er tomme for fisk, jakt og fiske som livssvei er ikke gjennomførbart i Norge, gammer og lavvuer er nesten forsvunnet fra vidda, fjorder er forurenset av gruvedrift, og vindmøller okkuperer milevis av naturområder. Områder som holder oss i livet. Oss mennesker. Vi i nord er heldige som har klart å holde vår natur så frisk og levende – enn så lenge. For nå blir det mindre og mindre igjen av den naturen våre forfedre ga over til oss. Den er i ferd med å raseres. 
Vi samer har ofret mye i Norges lovers navn. 
Jeg må si at i dag feirer jeg alle samer! Også alle de samene som ikke har fulgt lovene til punkt og prikke. Nå tenker jeg, hvorfor skulle de det, når ikke staten selv gjør det?  
De har bare levd sitt liv, utøvet sin kultur, ført videre sine tradisjoner – selv når det har kommet nye lover som har gjort det vanskeligere for dem å gjøre det. Alle de samene vil jeg også feire i dag. 
De lot seg ikke styre av upålitelige makter. De visste at lovene i Norge ikke kan beskytte de – og de visste å ikke la fremmedmaktens lover og pengekamper ødelegge for vår levemåte. Fosen-saken er ikke første gangen vi har bevis på at vi ikke kan stole på det norske rettssystemet. Dette er noe samer over hele Sápmi har visst hele tiden. Disse samenes protest har skjedd i det daglige. Deres hverdag i seg selv er en protest mot de påfunn regjeringen kommer med bak sine skrivebord. De samene protesterer i stillhet. Utøver sin kultur. Viser uenighet og motstand ved å tie. 
Vi samer burde ha bedre ting å gjøre enn å protestere mot staten. Vi burde være opptatt med å bygge opp det vi har mistet gjennom århundrer, – og det kan vi kun gjøre ved å leve den ut. Å leve den kulturen vi ønsker ha. Å leve det livet vi ønsker å leve som samer. Vi burde være opptatt med å dyrke vår kultur!   
Realiteten er at vi fortsatt må forholde oss til kolonistaten og deres stadig nye påfunn og prioriteringer som stopper oss. Dessverre. Vi har mange kamper vi skal kjempe for overlevelsen av vår kultur. Dessverre er dette fortsatt en kamp for oss – etter flere hundre år. 
Realiteten er – vår kultur er i ferd med å viskes ut med historien.  
Men likevel – hvert år feirer vi 17. mai og tar opp diskusjonen om hvorfor vi kan ha på oss kofta på 17. mai. Hvorfor kan vi det? 
Det er vanskelig å tro at ikke alle i landet vet det, men Norge er en del av Sápmi! Og vi samer hadde ikke noen stemme da den beslutningen ble tatt.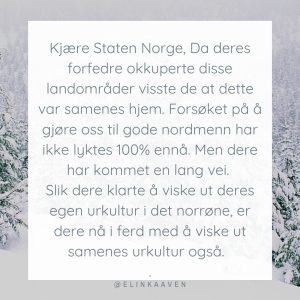 Kjære Staten Norge, da deres forfedre okkuperte disse landområder visste de at dette var samenes hjem. Forsøket på å gjøre oss til gode nordmenn har ikke lyktes 100% ennå. Men dere har kommet en lang vei. Slik dere klarte å viske ut deres egen urkultur i det norrøne, er dere nå i ferd med å viske ut samenes urkultur. 
The post FOVSEN-PROTESTS IN OSLO appeared first on .